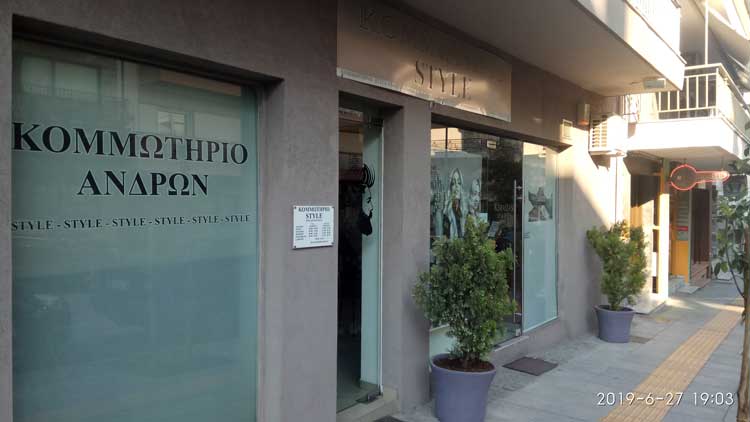 The Hairdresser "Style" – Euripides Kyriakidis declares presence of Offer!
A resounding expression of Solidarity, another link in the "chain" of Offering to Mankind by Beauty and Hairdressing Companies.
The "Style" Hair Salon of Mr. Euripides Kyriakidis and Mrs. Irini Paschalidou has deleted a turnover of about 30 years.
During this period he has left his important mark in terms of Hairdressing Services in the wider area of ​​Stavroupoli – Ano Ilioupoli in Thessaloniki.
(Makrigianni 32, 564 31 Stavroupoli – Ano Ilioupoli, Thessaloniki. Tel .: 2310 – 60 71 51).
Solidarity for the fellow human beings.
At the initiative of the representative of Nea Genia, the daughter of the family of Mrs. Nena Kyriakidou – who heads the Onychoplasty department – the Company expands its activities in the field of Corporate Responsibility.
Actively participates in the Hair Collection Movement for the manufacture of Medical Wig Diseases for our needy fellow human beings.
Bergmann Kord: Corporate Social Responsibility
Bergmann Kord, the 1st Hair Clinic in Greece, shows, among other things, special sensitivity in matters concerning the wider Society, with the crowning of the "HAIR for HELP" Initiative. A movement that embraces and at the same time cultivates special Values, such as Solidarity, Selflessness, Social Participation.
This Movement encourages volunteers to donate some of their hair, in order to make medical wigs for diseases, which are then offered, without any financial burden, to our needy fellow human beings who are ill.
The "family" of "HAIR for HELP" is growing, with remarkable additions such as that of the "Style" Hairdresser, which we welcome to the "company" of the participants in the movement, with the belief that… Smiles for the coming years will be more!
Perspectives
Bergmann Kord intends to vigorously continue to spread the "HAIR for HELP" Initiative.
The aim is, first of all, to inform, to raise awareness, as well as to increase the participation of the people in corresponding movements of Social Contribution.
For more information about the "HAIR for HELP" Initiative and the participants-partners you can contact the phone 210 68 28 888 at the Main Buildings of the Bergmann Kord Clinical Hair: 348 Kifissias Avenue (Opposite "HYGEIA" Hospital), PC 152 33 Chalandri
Addresses of Scientific Centers:
* Athens (Headquarters) : 348 Kifissias Ave. (Opposite "HYGEIA" Hospital), PC 152 33 Chalandri, Athens, Tel.: 210 68 28 888
* Athens : 203 Syggrou Ave., PC 171 21 Nea Smyrni, Athens, Tel.: 210 93 11 111
* Thessaloniki : 20 Adrianoupoleos & Aegean, PC 551 33 Kalamaria, Thessaloniki, Tel.: 2310 45 85 55
* Patras : Agiou Andreou 111 & PC 262 21 Patra, Tel.: 2610 42 45 45
* Larissa : Marinou Antipa 2 & Kouma (Central Square of Larissa), PC 412 22 Larissa, Tel.: 2410 66 00 90
* Heraklion : Georg. Papandreou & Drakontopoulou 49, PC 713 06 Heraklion, Crete, Tel.: 2810 34 20 65
* Rhodes : Canada 73 (Agios Nikolaos Square), PC 851 00 Rhodes, Tel.: 22410 78 302